Treasury Management provides tools and information to improve cash flow.
Whether you are just starting a company, or have an established family operation, or a large corporation, Austin Bank Treasury Management provides you the financial tools and information to improve cash flow and increase profits.
Business Online Banking and Austin NET™
Austin Bank has the expertise to help you achieve your financial goals. Business Online Banking and Austin Net™ give you the competitive advantage to have full service access to your accounts in a completely secure environment. Conduct your banking anywhere you have Internet access at any time. You will be able to do everything necessary to manage your business cash flow.
Review Account Information & Balances
Transaction Inquiry and Research
Transfer Funds between your Austin Bank Accounts
Company Controlled Authorization and Access
Customized Account Names and Groupings
Originate ACH Transactions*

Direct Deposit
Cash Concentration
Controlled Disbursements
Electronic Tax Payment

Originate Wire Transfers*
Optional Dual Authorization for Fund Transfers & File Origination
Place Stop Payments
View Images of your checks
Download Statements & Transactions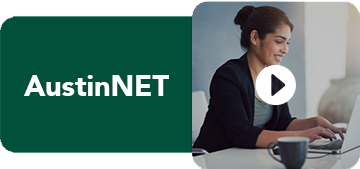 *The cutoff times for processing are:  same day ACH payments - noon; standard ACH payments - 4:00 p.m.; international wires - 2:00 p.m.; domestic wires - 3:00 p.m.